Our "Autos" flew with us, without air in the tyres and pedals. As we had fixed all of them again we started our Rendevouz with the bumpy Irish roads between car queues and their exhausts. We were kind enough to leave the main roads and to made more miles on the smaller ones.
But anyway we found a B&B just until the dusk came along. It was nice to awake on a sunny morning and to enjoy the first "Full Irish" (even more than a breakfast). At midday we reached the Cliffs of Moher. No complaints about hords of tourists, we met them just before we left the Cliffs. A french couple showed us an other way and so we took the path from the south side. As you can see, it wasn't very crowded there.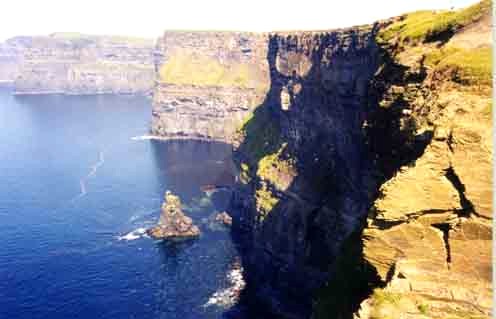 Of course we cannot close the day without mentioning Fanore. You will have problems to find the little village on the map. But if you enter it between the arid-rocky Burren and the blue Atlantic you can see far away some tiny cottages. All of that is Fanore. We have also to mention our wonderful Landlady Anna Towler who provided for a 2-days accomodation in the Crumlin Lodge and for an excellent dinner on the second day, briefly before midnight as we came back from a Burren-tour. It wasn't quite easy to say Good Bye to the comfortably house only a hop skip from Atlantic, but we still had to do.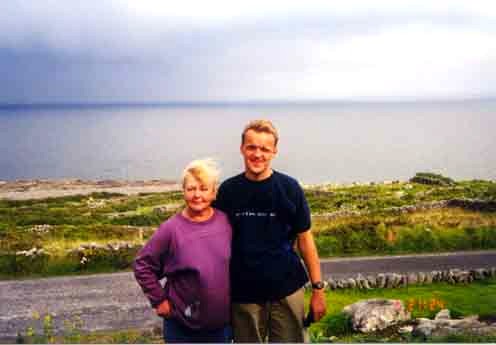 A ferry brought us to Inishmore one of the Aran Islands where we enjoyed the mystic atmosphere of Dun Aengus an ancient keltic stone fort.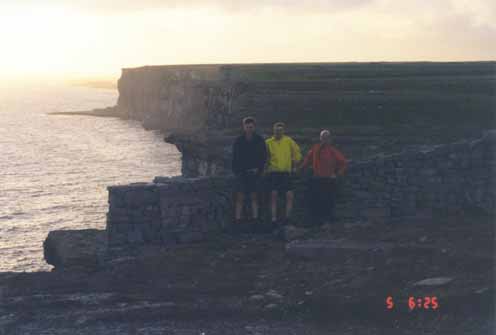 Back from the small Island a new landscape opened its secrets to us. Describing Connemara with all of it's facets seems impossible. Deep-green meadows covered with rocks, interrupted from tiny springs flowing into picturesque lakes. Swamp flowers blooming all around, meadows of fern growing everywhere. And in the background raising the mountains. You can put them all in thousands of pictures. Here is just one of them.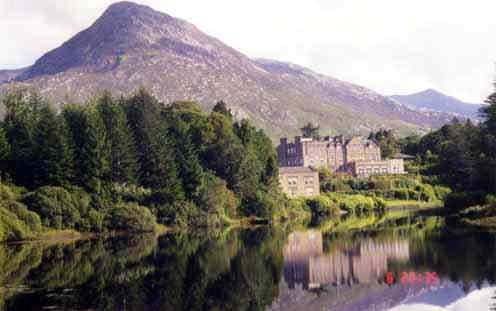 We passed Clifden, visiting the famous Kylemore Abbey (had a lunch in front of it) and got an audience at King Cong in the same named town. And at one day we made a break on a coast road and by the way we were watching on a huge mountain between the clouds. It came across our mind just to leave our bikes and to climb it. Of course it was a special one the Croagh Patrick the "Holy Irish Mountain". Every Year on the 17-th of March 10,000s of Irish people walking to the top and pay tribute to the Saint Patrick, who was a priest and brought the christianity to Ireland. Our walk began while sunshine, the path was stony and cut from little springs. On the way we passed a lot of hikers and we realized three young girls who were fighting very hard.
It was getting more and more inconvienent, fog came up, it was getting really steep and you had to wade through piles of peaky rocks. On the end we reached the top - 732 metres above sea-level. Here it was like in a huge laundry room. You couldn't see anything, it was cold and a fine drizzle moistured the skin. But we were in good mood, we stood in front of the little chapel and enjoyed our silent luck. As we had moved the half way back we met the brave Irish girls again. They gasped heavily and were entirely wet in their thin T-Shirts and sneakers. But in their eyes the confidence to reach the top although the hardest part of the way wasn't done yet.
4 hours after we had decided to make this little walk, we sat on our bikes and had 3 girls in our mind, who may lean entirely exhausted on the white wall of the chapel.
Our way lead us further to the North, the dozy Achill Islands, Castlebar, Sligo where we had an exclusive dinner in a scene restaurant and after a terrible rainy day finally Donegal. It was midday as we arrived the port of Killibegs, which was not to mention usually but we had the occasion to observe a huge trawler on the quay with the well sounded name "Atlantic Dawn". It belongs to the weirdness of such journeys that you pass a little port town just on that moment, which became one of the outstanding events in the last 20 years. Or you can say it in that way: One of the biggest Fish Trawlers of the world made a short break on his way from Norway to West Africa just to have an appointment with 3 crazy cyclers from Germany.
But the day wasn't quite over, we just went on the steep coast roads, as the axis of Andreas' back wheel broke. We were able to patch it and could reach the next village. Here we found a B&B. It was great from our Irish host that he brought the cycle to a friend in Donegal town for repairing. A special thank to him.
So we made our hike to the highest Cliffs in Europe - by foot. To describe these emotions, watching the sea from the top (595 metres) - I think you cannot do it. You have to go there by yourself, to feel all the real largeness, those dimensions of nature of that unique place.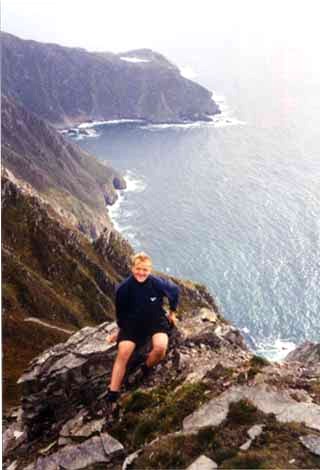 The axis had been repaired and we could continue our journey through the almost untouched countryside of Donegal towards the Irish boarder. In Letterkenny we visited the famous Cathedral and listened Irish folk music. Instead of staying in Donegal we decided immediately to pass the green boarder. From Derry we took a train to Coleraine with the intention to discover a further Highlight - The Giant Causeway. We had to look for an accommodation and found Maddybenny a horseriding farm in that typical English country style, which would be expected in Middle England or Scotland. The landlady Mrs. Rosemary White was also in that way. But we have to praise her for a gorgeous Irish Breakfast (which was awarded as the best Irish several times).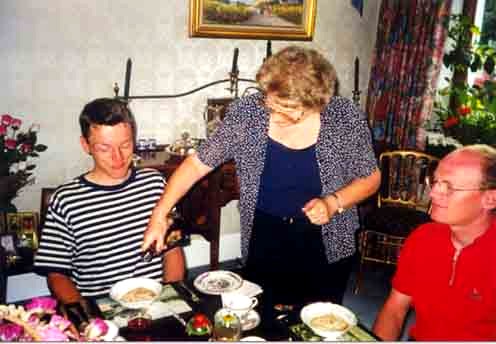 So we could enjoy fresh made trout, Columbian coffee and a very special porridge with honey and Irish Mist. It was our last cycling day. We dodged the roaring Atlantic waves on the Giant Causeway, missed the last guidance through Bushmills Distillery and tried a whiskey in a pub afterwards. On our way back there was a little melancholy in the air.
After a one-night stop in Dublin with nightlife and a short trip to the world-famous Guiness Brewery we had to say Good Bye to that marvellous island and it's marvellous people.

These 3 weeks will remain an unforgettable experience.